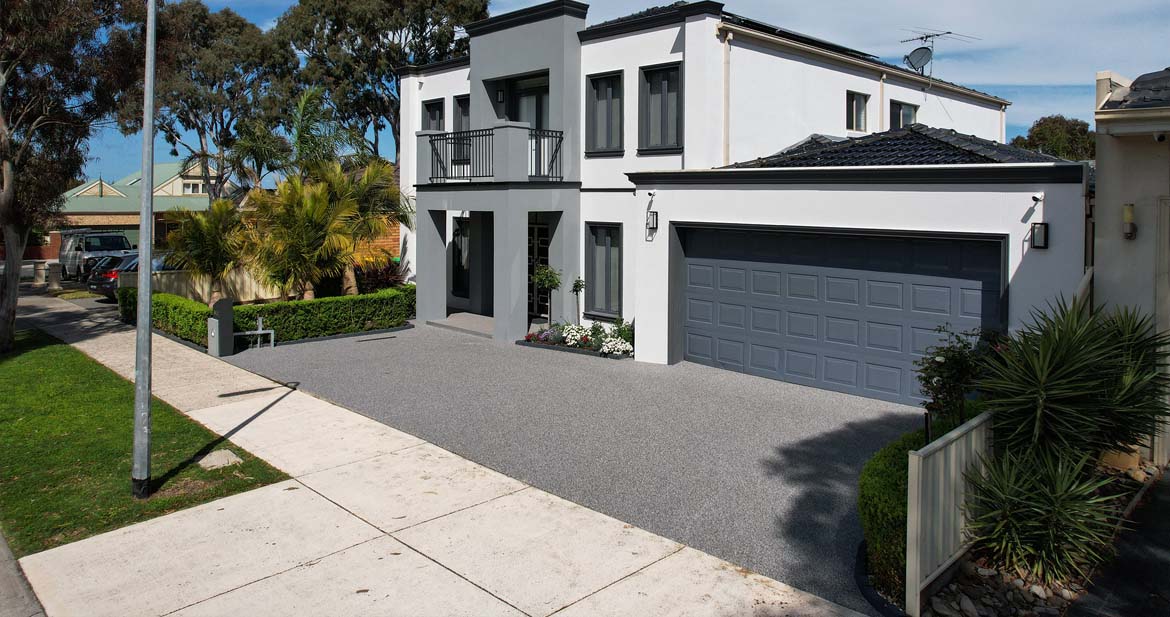 Driveway Resurfacing Expert in Melbourne
If you're searching for a
Driveway Resurfacing
Expert in Melbourne, your quest ends here. Our team of seasoned professionals specializes in rejuvenating and enhancing the appearance and functionality of your driveway. With years of industry experience, we employ top-notch materials and cutting-edge techniques to deliver exceptional results. Our expertise covers everything, whether your driveway requires minor repairs or a complete overhaul. We take immense pride in our unwavering commitment to customer satisfaction, ensuring your driveway looks splendid and endures the test of time. Rely on us for expert
driveway resurfacing services
in Melbourne, and let your home shine.
Why Choose Natural Stone Carpets for Driveway Resurfacing in Melbourne
Opting for natural stone carpets for driveway resurfacing in Melbourne presents many advantages, making it the intelligent choice for discerning homeowners.
Enhanced Aesthetics: Natural stone carpets instantly elevate your property's curb appeal. With a wide array of colors and patterns to select from, they exude a timeless, elegant look that seamlessly complements any architectural style.

Increased Safety: These stone surfaces provide exceptional traction, mitigating the risk of slips and falls. This safety aspect is particularly vital in Melbourne's wet or icy weather, ensuring the well-being of both pedestrians and vehicles.
Exceptional Durability:
Natural stone is renowned for its inherent strength. Resurfacing your driveway with stone carpets equips it to withstand heavy traffic, resist wear and tear, and endure Melbourne's fluctuating climate conditions, including heat, rain, and cold.


Cost-Effectiveness:
Among the most compelling reasons to favor resurfacing over complete replacement is cost-effectiveness. Installing natural stone carpets often proves more economically viable than tearing out and replacing the entire driveway. This not only saves you money but also minimizes disruption to your property.


In addition, natural stone carpets for driveway resurfacing in Melbourne offer improved aesthetics, safety, durability, and cost-effectiveness. Elevate your home's appearance, ensure safety, and make a reasonable investment by opting for this elegant and pragmatic solution.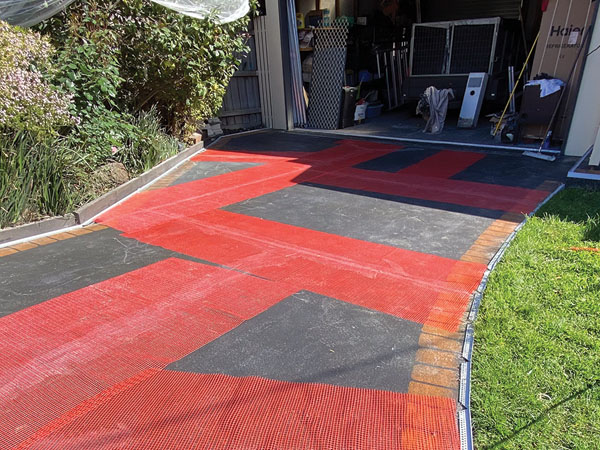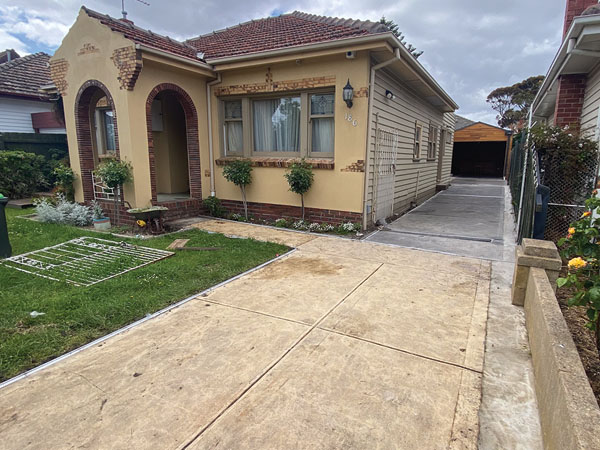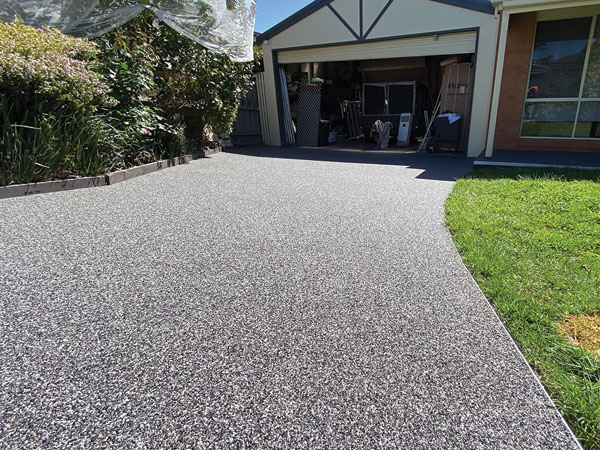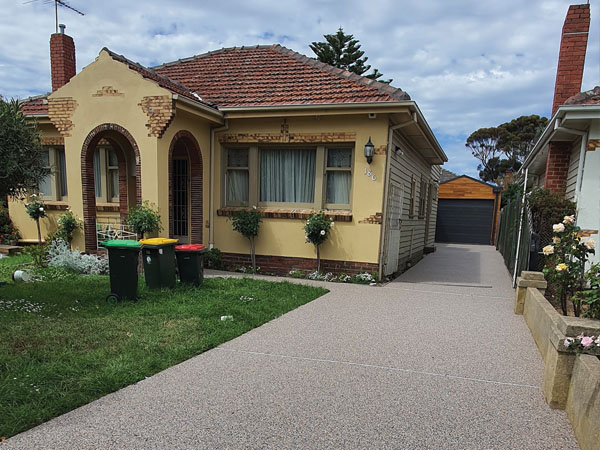 Our Expert Driveway Resurfacing Service
At Driveway Resurfacing Melbourne, we take immense pride in offering an exemplary service that metamorphoses your weathered driveway into a shining, resilient, and functional asset for your property. Here is an overview of our expert driveway resurfacing process, along with its benefits and diverse applications:
Driveway Resurfacing Process:
Assessment:
 Our adept team initiates the process by conducting a comprehensive examination of your existing driveway, identifying any cracks, potholes, or surface imperfections.
Surface Preparation:
 

We meticulously prepare the surface by thoroughly cleaning, removing debris, and rectifying any structural issues. This step establishes a robust bond between the new surface and your pre-existing driveway.
Repairs:
 Any cracks or damage undergo meticulous repairs to render a smooth, uniform base.
Resurfacing:
We apply a premium resurfacing material, natural stone carpets, or concrete overlay tailored to your preferences. This enhances aesthetics and fortifies the driveway with a protective layer, extending its lifespan.
Finishing Touches:
The finishing touches, encompassing sealing, texturing, or ornamental elements, are meticulously incorporated to achieve the desired aesthetics and functionality.

Benefits of Driveway Resurfacing:

Improved Aesthetics:

 

Instantly elevate your property's curb appeal with a fresh, inviting driveway.
Enhanced Durability:

 Our resurfacing solutions are meticulously crafted to withstand Melbourne's harshest weather conditions, ensuring prolonged longevity.

Cost-Efficiency:

 Driveway resurfacing proves a financially prudent alternative to complete replacement, translating to cost savings.

Increased Property Value:

 A well-maintained driveway can augment the value of your residential or commercial property.
Applications:

Residential Driveways:

Transform your home's entryway into an inviting and stylish space.
Commercial Properties:

 

Craft a professional and welcoming first impression for your clientele.
Public Areas:

 

Enhance the aesthetics and safety of public driveways, parking lots, and walkways.
Concrete Driveway Resurfacing:
In addition to traditional resurfacing, we specialize in concrete driveway resurfacing, which offers unique benefits:
Versatility:

Concrete resurfacing permits a vast array of finishes, encompassing stamped patterns, colors, and textures, facilitating the creation of a bespoke appearance.

Durability:

 

The existing concrete structure is fortified, rendering it resistant to cracks, stains, and damage.
Eco-Friendly:

 

Reutilizing your existing concrete curtails waste and aligns with environmentally responsible practices.
Our adept team at Driveway Resurfacing Melbourne remains steadfast in delivering exceptional results, whether you opt for traditional resurfacing or choose the versatility of concrete driveway resurfacing. Place your trust in us to revitalize your driveway, amplify its functionality, and elevate the overall aesthetics of your property.
Frequently Asked Questions
How long does driveway resurfacing typically take?
The timeline for driveway resurfacing can vary depending on the size and scope of the project. However, our team strives to complete the process efficiently while maintaining quality workmanship.
What maintenance is required for natural stone carpets on driveways?
Is concrete driveway resurfacing a sustainable choice?
Can I choose custom designs for my driveway resurfacing?
What should I consider when selecting a driveway resurfacing material?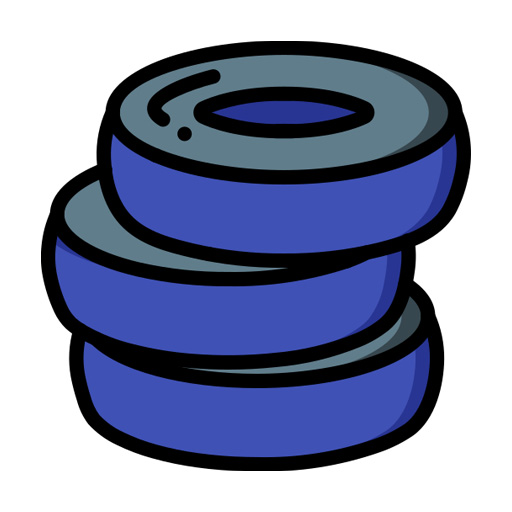 Please share your project information, and we will create a complimentary estimate for you.
Feel free to connect with us on our social media platforms to stay updated on our most recent projects and updates.