Crafting the Superiority of
Natural Stone Carpets
Our journey begins with the infusion of cutting-edge 2-part polyurethane technology. This specialized formula surpasses the endurance of other resin-bound products, particularly epoxy variations. When harmonized with our meticulously curated natural stone compositions, a remarkable synergy emerges. The result is an unrivalled surface, boasting a blend that not only looks superior but also outperforms any other hard surface. Crucially, it maintains intentional gaps to ensure maximum permeability, allowing seamless water passage.

Our commitment to maximizing performance extends to the installation process, handled by our highly skilled Natural Stone Carpets installers, culminating in a secure 10-year guarantee.
Critical Attributes of Natural Stone Carpets:
Our product champions maximum permeability, meeting various needs from regulatory land ratios to environmental impact concerns allowing water to flow freely, whether for tree health, flood prevention, or eco-friendly purposes.
Despite their robust appearance and performance, natural stone carpets boast exceptional flexibility, accommodating slight movement uncommon in finishes like concrete.
Tailored for various traffic demands, from driveways to commercial pathways, pool surroundings, and outdoor recreational areas.
High-Grade Slip Resistance
By incorporating natural stone aggregates and a design preventing water accumulation, our surfaces provide remarkable slip resistance, ensuring safety.
With a promise of a decade-long maintenance-free lifespan and an estimated design life exceeding 25 years, bid farewell to frequent upkeep and re-surfacing needs.
Embrace the premium allure unique to Turkish-sourced stones. With an extensive palette of colours and the option to create custom blends, there's a perfect match for every style and theme.

Natural Stone Carpets are a testament to innovation and craftsmanship, offering an unparalleled blend of aesthetics, performance, and durability in every facet.

NATURAL STONE INSTALLATION PROCESS
Our different sizes of coloured natural stones are mixed with polyurethane (2K PU) binder and can be safely applied on all interior and exterior floors.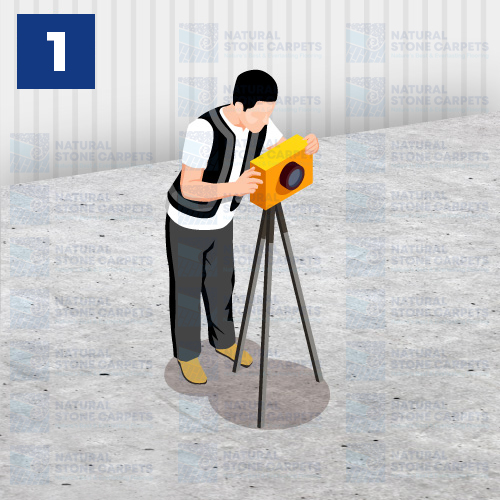 Step 1
Laser etc. from the floor. The flatness (balance) is checked with auxiliary tools.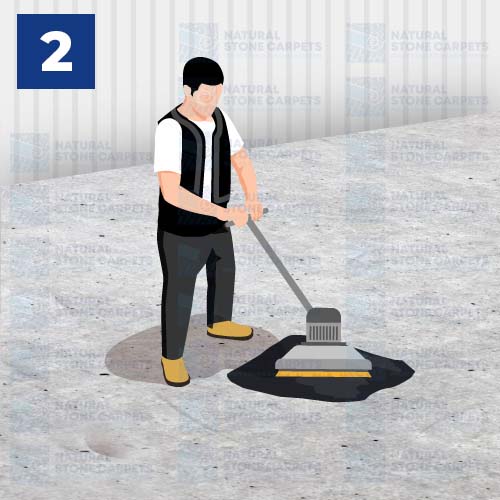 Step 2
Smooth out any recessed and / or protruding areas with the squeegee machine.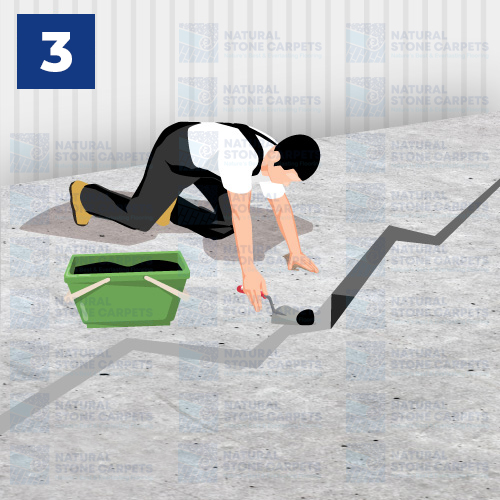 Step 3
Dusted or cracked parts, if any, on the floor are filled with repair mortar.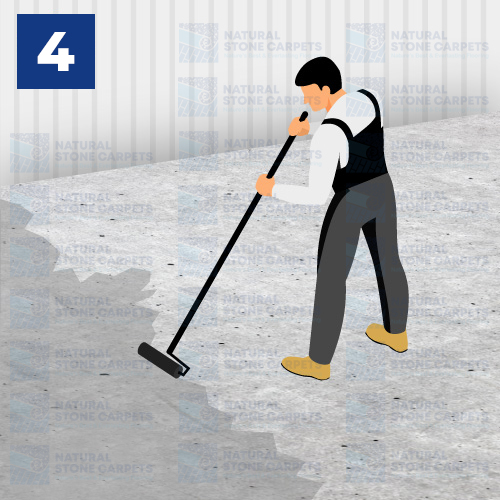 Step 4
Depending on the condition of the floor, it is primed with a roller with a dry or wet floor primer.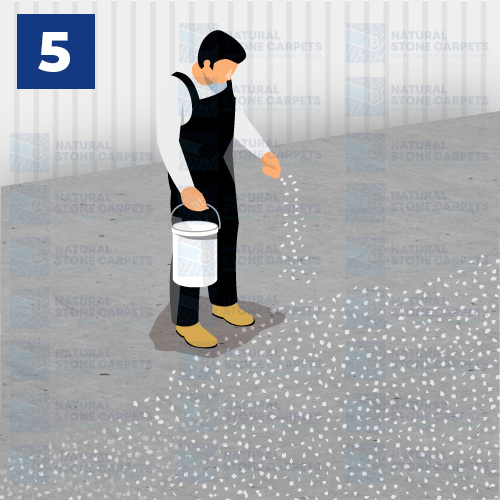 Step 5
With primer sand 1.5 / 1.2 mm sprinkle it on the floor and then let it dry.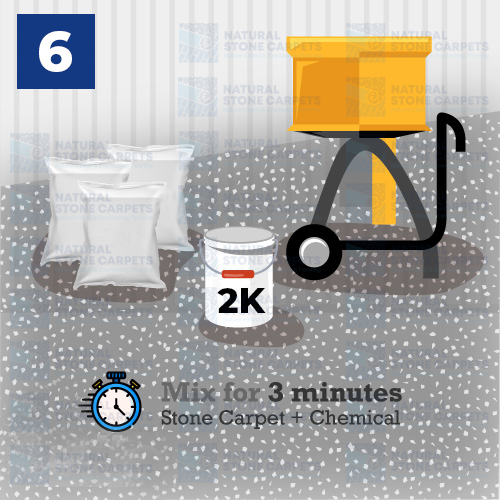 Step 6
Suitable equipment and materials must be available for the area of application.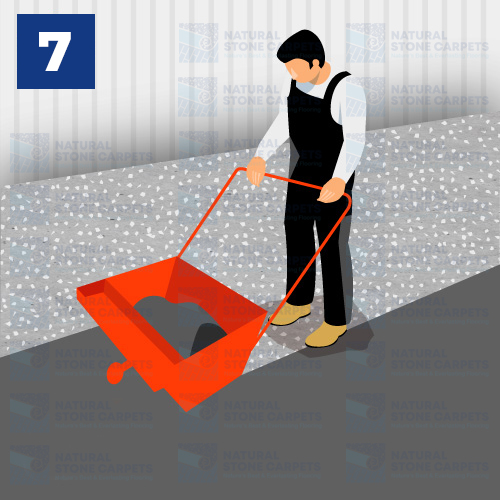 Step 7
After homogeneous mixing of stone and chemicals, the natural stone carpet is laid on the floor with a laying trolley.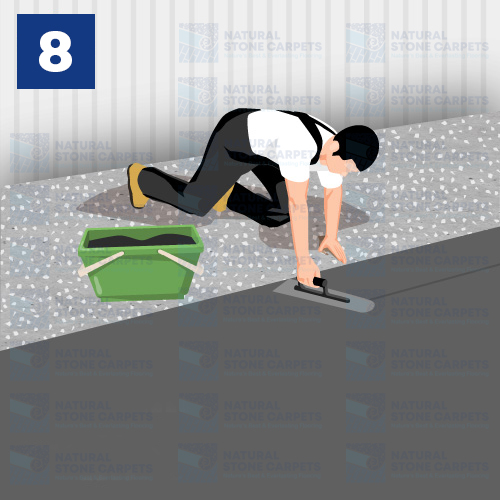 Step 8
With stone carpet trowel the granules placed on the ground are pressed by the application master in accordance with the plane of the ground.
Step 9
If desired, it allows the granules to be compressed more with the specially designed stonecarpet halicopter after the application with the hand trowel of the master.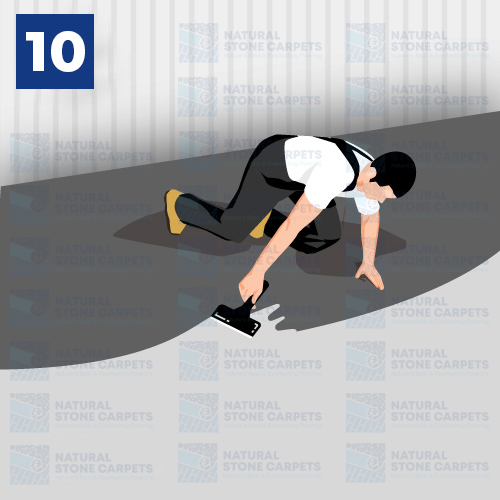 Step 10
The pore filling is applied to the floor using a white squeegee.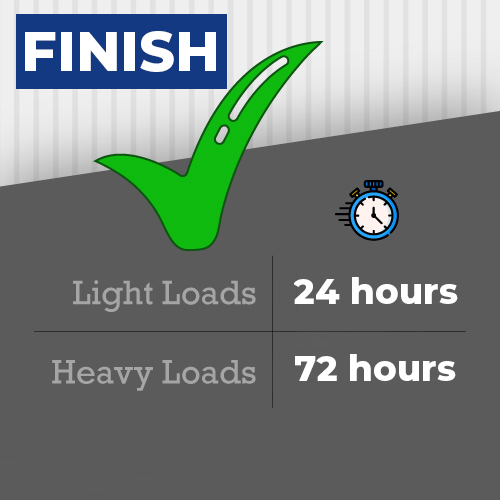 Finish
After the stone carpet application, the floor drying times for the walker and car traffic should be followed.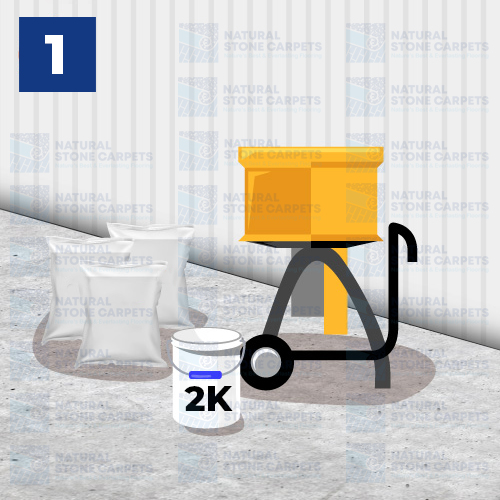 Step 1
Suitable equipment and materials must be available for the area of application.
Step 2
Apply the weighed wall binder as a primer in order to achieve a viable and solidified surface for a subsequent layer of Natural Stone Carpet. Apply a thin layer with a brush or a roller to the vertical surfaces. Use only as much primer as can be processed before the onset of skin formation.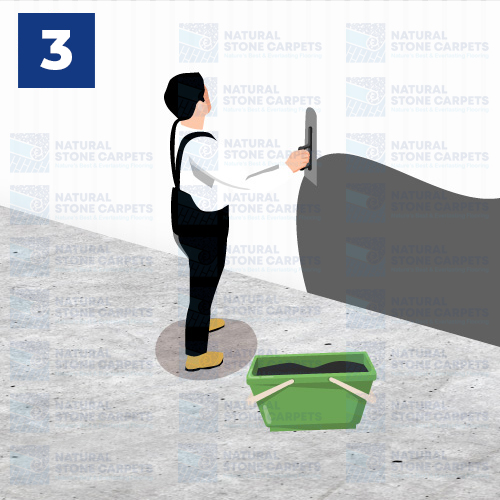 Step 3
Then apply a 10-mm-thick layer of Natural Stone Carpet onto the wet primer, using a trowel. Apply from the ground up. Press the quartz granule evenly. Compress the coated surface by applying uniform pressure to the trowel.